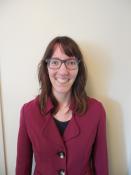 Annastasia L
$26.25 - $44.00/hour

Bachelor's Degree

No background check on file
I'm from Campbell River on Vancouver Island. I have a degree in Linguistics and French and also went through French Immersion. I recently returned from teaching ESL in Tokyo, Japan. I have been an ESL tutor for 5 years and have 3 years of teaching experience. I have taught all ages from young children to seniors. I am available to help with French and English classes as well as ESL. In my spare time I enjoy reading, singing and hiking. I believe learning should be fun and will tailor my classes to the student's interest as much as possible.
Annastasia Speaks the following languages:
English (Native Or Bilingual) French (Full Professional) Spanish (Limited Working)
Annastasia's relevant education:
University of Victoria(Majored in French and Linguistics) North Island College(TESOL certificate)
Annastasia's availabilities:
Mondays between 9:45am and 2:30pm
Tuesdays between 9:45am and 10:15am
Tuesdays between 4:30pm and 6:00pm
Wednesdays between 9:45am and 2:30pm
Thursdays between 9:45am and 10:15am
Thursdays between 4:30pm and 6:00pm
Fridays between 9:45am and 6:00pm
Saturdays between 10:00am and 6:00pm

Tutor's the following subjects:
English K-7 $38/hr (online) ESL $44/hr (online) French 5-12 $42/hr (online)
Offers The Following Plans **
| Cost | Hours Included | Hourly Rate |
| --- | --- | --- |
| $210.00/month | Includes 8 Hour(s) Of Tutoring | $26.25 |
| $125.32/month | Includes 4 Hour(s) Of Tutoring | $31.33 |
*No monthly commitment or contracts. Only on demand when you need it.
*Keep in mind that these are just general availabilities and does not account for sessions already booked during these times *Plans are a way that a tutor can offer bulk purchases of tutoring for deep discounts. If you plan on doing multiple sessions with tutors, we recommend choosing a plan.
Questions? Call us at (778) 655-4121