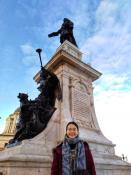 Chenyang L
$30.00 - $40.00/hour

University or College Student

Background Check Completed On Oct 16, 2018
Hi there! I am Chenyang, an Arts student in UBC, planning to help the students out there! I have been volunteering with the City of Coquitlam and the Coquitlam Library for the past four years, my time there have provided me with excellent interpersonal skills, especially with children. The activities in the former place usually involve helping staffs to teach pre-school children to draw or make handicrafts, which requires me to constantly communicate with children. In the latter place, I tutored students aged 10-15 in various subjects, including English, Math, Social Studies, and sometimes Spanish. These valuable experiences allow me to familiarize myself with various working methods that could be applied to the tutoring process, and help me to come up with special outlines for each student, designed to meet his/her needs. When I am not studying or hanging out with my friends, I would read a book, go for a walk, or meditate. I enjoy social science fiction and novels very much, some of my personal favourites are The Razor's Edge, Earthsea Series, and The Picture of Dorian Gray. In university, I want to pursue an honours degree in History and a minor in Spanish, therefore, I am taking Spanish 201 & 202, Arts One, History 273 & 208, and another science class for the requirement. I am a diligent student with a strong academic ability and an eagerness to acquire knowledge. As someone who always wants to share her knowledge, teaching appeals to me because I genuinely care about the student's study process, and I am passionate about helping others to achieve their academic goals. With excellent spoken and written English and Mandarin, I am also able to explain the situations in a clear and concise manner to students of different backgrounds. I am confident that my skills and knowledge will make me a strong candidate for this position. My high school transcripts are available if needed, thanks for your consideration!
Chenyang Speaks the following languages:
English (Full Professional) Spanish (Limited Working) French (Elementary) Chinese (Native Or Bilingual)
Chenyang's relevant education:
University of British Columbia (Planning to major in History and minor in Spanish)
Chenyang's availabilities:
Saturdays between 9:00am and 7:00pm
Sundays between 9:00am and 7:00pm
Tuesdays between 10:00am and 9:00pm
Wednesdays between 5:00pm and 9:00pm
Mondays between 5:00pm and 9:00pm
Fridays between 5:00pm and 9:00pm

Tutor's the following subjects:
English 8 $35/hr (home) $30/hr (online) English K-7 $35/hr (home) $30/hr (online) ESL $40/hr (home) $35/hr (online) Mandarin Chinese 5-12 $35/hr (home) $30/hr (online) Science 9 $35/hr (home) $30/hr (online) Social Studies K-7 $35/hr (home) $30/hr (online) English 10 $40/hr (home) $35/hr (online) English 9 $35/hr (home) $30/hr (online)
Tutor's in:
West Point Grey Kitslano Dunbar-Southlands Arbutus Ridge Shaughnessy
*No monthly commitment or contracts. Only on demand when you need it.
*Keep in mind that these are just general availabilities and does not account for sessions already booked during these times *Plans are a way that a tutor can offer bulk purchases of tutoring for deep discounts. If you plan on doing multiple sessions with tutors, we recommend choosing a plan.
Questions? Call us at (778) 655-4121