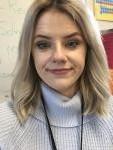 Eva L
$50.00 - $50.00/hour

Bachelor's Degree

Certified Teacher
No background check on file
I'm an Irish teacher with a Bachelors of Education degree. I'm new to Vancouver this year and I'm now teaching Grade 7 here. I have taught both classes and learning resource in Ireland. I also taught in a bilingual school in Spain for a semester. I was trained through a Froebelian method, emphasising active learning through concrete materials and making connections with real life. I have five years experience tutoring in math and English. I have also done summer tuition with a child with autism. I love teaching children to be able to build up their confidence in different subjects and encourage them to use their growth mindset. I am comfortable with tutoring math and English and also helping with homework in other areas.
Eva Speaks the following languages:
English (Native Or Bilingual) Irish (Full Professional)
Eva's relevant education:
Maynooth University, Kildare, Ireland
Eva's availabilities:
Mondays between 4:15pm and 9:00pm
Tuesdays between 4:15pm and 9:00pm
Wednesdays between 4:15pm and 9:00pm
Thursdays between 4:15pm and 9:00pm
Fridays between 4:15pm and 9:00pm

Tutor's the following subjects:
English K-7 $50/hr (home) Math K-7 $50/hr (home)
Tutor's in:
West Point Grey Kitslano Dunbar-Southlands Arbutus Ridge
*No monthly commitment or contracts. Only on demand when you need it.
*Keep in mind that these are just general availabilities and does not account for sessions already booked during these times *Plans are a way that a tutor can offer bulk purchases of tutoring for deep discounts. If you plan on doing multiple sessions with tutors, we recommend choosing a plan.
Questions? Call us at (778) 655-4121