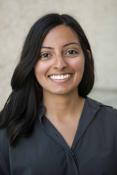 +150 Hours
Kiran D
$35.00 - $45.00/hour

Bachelor's Degree

Background Check Completed On Oct 14, 2014

based on 1 reviews
My name is Kiran and I am a graduate of the University of Calgary with a degree in Natural Sciences, specializing in Biological Sciences and Chemistry. I just recently completed a Masters of Public Health degree at the University of Saskatchewan. I have been a science instructor in a variety of settings over the past 5 years. I really enjoy teaching because I am very passionate about science literacy, and thing it is an extremely important skill to have. When I am not teaching - you can catch me being a foodie, doing hot yoga, or reading a book. **Please be advised that I will be no longer be tutoring in-home in Calgary starting Jan 1st, 2020, and will be unavailable for online services for the remainder of January 2020.
Kiran Speaks the following languages:
English (Native Or Bilingual) Panjabi; Punjabi (Limited Working)
Kiran's relevant education:
2015 Natural Sciences Graduate, University of Calgary. Majored in Biological Sciences and Chemistry.
Kiran's availabilities:
Sundays between 3:00pm and 7:00pm
Mondays between 10:00am and 7:00pm
Tuesdays between 2:00pm and 7:00pm
Thursdays between 10:00am and 7:00pm
Wednesdays between 2:00pm and 4:00pm
Fridays between 10:00am and 6:00pm

Tutor's the following subjects:
Biology 20 Biology 30 Introductory Biology Science 10 Science 20 Science 30 Science Grades 7-9 Essay Marking Biochemistry 393 Chemistry 351 Intro Statistics
Communication:
Punctuality:
Preparedness:
Connection:
Helpfulness:
Kiran Activity On Our Free Chat Board
*No monthly commitment or contracts. Only on demand when you need it.
*Keep in mind that these are just general availabilities and does not account for sessions already booked during these times *Plans are a way that a tutor can offer bulk purchases of tutoring for deep discounts. If you plan on doing multiple sessions with tutors, we recommend choosing a plan.
Questions? Call us at (587) 316-1089