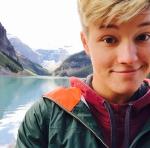 Megan Eliza P
$25.00 - $25.00/hour

University or College Student

Background Check Completed On Apr 24, 2019
Hey, my name is Megan Eliza but most people call me Eliza. I am a college student who is passionate about teaching others. I was top of my high school graduating class. I have completed one year of Engineering at the University of Calgary, but am now studying Aircraft Maintenance at SAIT. I have been a swim instructor for four years and therefor I have much experience teaching people of all ages. I am a twin, so I have a never-ending amount of passions and practice tutoring my sister though math and science classes. In my free time, I enjoy rock climbing, skiing and swimming. Of course, if I am ever in the water with a friend, I find myself teaching proper swim technics. You see, learning is very important to me and I believe knowledge should always be shared.
Megan Eliza Speaks the following languages:
English (Native Or Bilingual)
Megan Eliza's relevant education:
University of Calgary(1 year of Engineering). Currently attending, SAIT(Aircraft Maintenance Engineering Technician)
Megan Eliza's availabilities:
Saturdays between 10:00am and 5:00pm
Thursdays between 2:00pm and 4:00pm
Sundays between 9:30am and 5:30pm

Tutor's the following subjects:
Chemistry 20 $25/hr (home) Math 10C $25/hr (home) Math 20-1 $25/hr (home) Math Grades 3-6 $25/hr (home) Math Grades 7-9 $25/hr (home) Physics 20 $25/hr (home) Physics 30 $25/hr (home)
Tutor's in:
Briar Hill Castleridge Crescent Heights Greenview Highland Park Hillhurst Hounsfield Heights Rosedale Sunnyside Thorncliffe Upper Hillhurst West Hillhurst Westmount Whitehorn
*No monthly commitment or contracts. Only on demand when you need it.
*Keep in mind that these are just general availabilities and does not account for sessions already booked during these times *Plans are a way that a tutor can offer bulk purchases of tutoring for deep discounts. If you plan on doing multiple sessions with tutors, we recommend choosing a plan.
Questions? Call us at (587) 316-1089