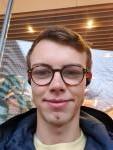 Ryan K
$28.00 - $32.00/hour

Bachelor's Degree

Background Check Completed On Apr 8, 2019
I am a recent 23 year old graduate having achieved an upper-second class Bachelor of Engineering with honours, in mechanical engineering, from Coventry University. My home country is England and I am currently on a two year working holiday visa, residing in Vancouver. my long term goal is and always has been, to become a high school teacher. Having always enjoyed and excelled in mathematical subjects throughout my education, the subject I am planning to teach is Mathematics. I have experience from tutoring students between the ages of eleven to eighteen in all high school science/mathematics subjects to applied mathematics/engineering at first year college level. I have also worked at a summer camp as a camp councillor/lifeguard/high ropes facilitator. This demanded the use of excellent problem solving, organisational, and communication skills to ensure a safe and fun experience for the children. My hobbies include music production, Snowboarding and a new found love of hiking through the beautiful mountains of British Columbia! Over the next two years I am excited to continue my passion for teaching and help more students in and around the Vancouver area to achieve their potential!
Ryan Speaks the following languages:
English (Native Or Bilingual)
Ryan's relevant education:
Coventry University, England. (Majored in Mechanical engineering)
Ryan's availabilities:
Wednesdays between 6:00pm and 10:00pm
Mondays between 6:00pm and 10:00pm
Tuesdays between 6:00pm and 10:00pm
Thursdays between 6:00pm and 10:00pm
Fridays between 6:00pm and 10:00pm
Saturdays between 9:00am and 12:00pm
Sundays between 9:00am and 6:00pm

Tutor's the following subjects:
Calculus 12 $32/hr (home) Math 10 $32/hr (home) Math 11 $32/hr (home) Math 12 $32/hr (home) Math 8-9 $32/hr (home) Math K-7 $32/hr (home) Physics 11 $32/hr (home) Physics 12 $32/hr (home) Science 10 $32/hr (home) Science 8 $32/hr (home) Science 9 $32/hr (home) Science and Technology 11 $32/hr (home) Science K-7 $32/hr (home)
Tutor's in:
West Point Grey Kitslano Dunbar-Southlands Kerrisdale Oakridge Marpole Sunset Victoria-Fraiserview Renfrew-Collingwood Kengsington-Cedar Cottage Hastings-Sunrise West End Yaletown Gastown Downtown Eastside Strathcona Grandview-Woodland North Vancouver Arbutus Ridge Shaughnessy South Cambie Riley Park Fairview Mount Pleasant Killarney Richmond-Sea Island Burnaby-Burnaby North Burnaby-Burnaby South view more communities...
*No monthly commitment or contracts. Only on demand when you need it.
*Keep in mind that these are just general availabilities and does not account for sessions already booked during these times *Plans are a way that a tutor can offer bulk purchases of tutoring for deep discounts. If you plan on doing multiple sessions with tutors, we recommend choosing a plan.
Questions? Call us at (778) 655-4121