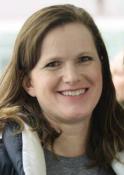 Shannon H
$40.00 - $100.00/hour

Bachelor's Degree

Background Check Completed On Aug 15, 2017
I have a Bachelor's degree in English Literature and Education and I tutor all areas of English and Language Arts. In addition, I am a mother of 3 and I coach short track speed skating and hockey skating. I am a big believer in trying to instill a love of learning in all students or clients. Learning should be exciting, as it is something that you need to continue to do throughout your lifetime. And in my particular subject area, reading and writing are two skills that you need to use in any career that you pursue, therefore learning how to read for content and write effectively are crucial skills that take you beyond high school and university. I enjoy working with students at all levels and feel that I am able to customize how I teach to individual learning styles. Teaching is what I love to do!
Shannon Speaks the following languages:
English (Native Or Bilingual)
Shannon's relevant education:
University of Wisconsin Green Bay - B.A. in English Literature & Education (grades 6-12)
Shannon's availabilities:
Tuesdays between 9:00am and 2:00pm
Mondays between 9:00am and 8:30pm
Thursdays between 9:00am and 8:30pm
Fridays between 9:00am and 2:00pm
Wednesdays between 8:00am and 8:30pm
Sundays between 8:00am and 3:30pm

Tutor's the following subjects:
English 10 $40/hr (online) English 11 $40/hr (online) English 12 $40/hr (online) English 8 $40/hr (online) English 9 $40/hr (online)
*No monthly commitment or contracts. Only on demand when you need it.
*Keep in mind that these are just general availabilities and does not account for sessions already booked during these times *Plans are a way that a tutor can offer bulk purchases of tutoring for deep discounts. If you plan on doing multiple sessions with tutors, we recommend choosing a plan.
Questions? Call us at (778) 655-4121