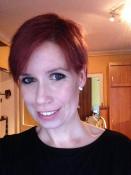 Zsuzsanna B
$30.00 - $35.00/hour

PhD

Background Check Completed On May 3, 2018

based on 1 reviews
I am a French and History teahcer from Europe. I had students from every age (8-64). I am very patient, kind, I explain very well. Even shy or unconfident students get braver and better :) I Speak Hungarian as well. I have bachelor degree in French, PhD in History.
Zsuzsanna Speaks the following languages:
English (Professional Working) French (Professional Working) Hungarian (Native Or Bilingual)
Zsuzsanna's relevant education:
Eötvös Lorand University, Budapest Phd in Social Sciences and History Bachelor in French Language and literature
Zsuzsanna's availabilities:
Wednesdays between 8:00am and 8:00pm
Fridays between 8:00am and 8:00pm
Saturdays between 8:00am and 8:00pm
Sundays between 8:00am and 5:00pm
Mondays between 8:00am and 5:00pm
Tuesdays between 4:00pm and 8:00pm
Thursdays between 4:00pm and 8:00pm

Tutor's the following subjects:
French $35/hr (home) Social Studies Grades 7-9 $35/hr (home)
Tutor's in:
Altadore Banff Trail Balmoral Beltline Briar Hill Bridgeland Britannia Capitol Hill Chinatown Cliff Bungalow Connaught Crescent Heights Downtown West Downtown East Downtown Central East Village Eau Claire Elbow Park Elboya Heights Erlton Glencoe Grandview Hillhurst Hounsfield Heights Inglewood Kingsland Lower Mount Royal Meadowlark Park Mills Estates Mission Mount Royal Parkhill Ramsay Rideau Rosedale Roxboro Scarboro Shaganappi Stanley Park Sunalta Sunnyside University Heights Upper Hillhurst Victoria Westmount Windsor Park view more communities...
"Very knowledgeable about French and able to explain concepts (especially grammar) in a way that is easy to understand."
Communication:
Punctuality:
Preparedness:
Connection:
Helpfulness:
*No monthly commitment or contracts. Only on demand when you need it.
*Keep in mind that these are just general availabilities and does not account for sessions already booked during these times *Plans are a way that a tutor can offer bulk purchases of tutoring for deep discounts. If you plan on doing multiple sessions with tutors, we recommend choosing a plan.
Questions? Call us at (587) 316-1089