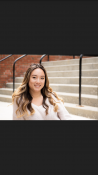 +25 Hours
Ainsley M
$28.00 - $30.00/hour

University or College Student

Background Check Completed On Dec 4, 2017

based on 3 reviews
I am a 5th year student at the University of Alberta majoring in Chemistry. I have previous experience teaching scientific concepts to children in kindergarten all the way up to high school! I am a visual learner and love to be able to see what I am learning and it helps me to better understand the material. I love to draw diagrams and do as many practice problems and tests that I can do that will help me to succeed. I have a very outgoing and bubbly personality and I love working out and spending time with my friends and family in my spare time! I have over 4 years of experience working with children that ranges from science and recreational day camps, babysitting to teaching in a classroom setting. I worked as a Science Camp Counsellor at the YMCA for one year and recently worked for DiscoverE at the University of Alberta as a satellite instructor. I got the chance to travel all around Alberta, Northern BC and the NWT teaching what I love... Science! I am so passionate about STEM and would love to help others succeed and reach their fullest potential! I am patient and understanding and can adapt to students needs and abilities. I find it very rewarding to build meaningful relationships with students and it is more than just a job but a passion. I am comfortable teaching in most areas of science and can adapt to any learning style that a student may desire, and as well help them to explore different styles of learning and determine which one will be best for him/her to succeed!
Ainsley Speaks the following languages:
English (Native Or Bilingual)
Ainsley's relevant education:
University of Alberta (Major in Chemistry)
Ainsley's availabilities:
Sundays between 10:00am and 4:00pm
Mondays between 4:00pm and 8:00pm
Wednesdays between 4:00pm and 8:00pm
Thursdays between 4:00pm and 8:00pm
Fridays between 4:00pm and 8:00pm
Saturdays between 10:00am and 4:00pm

Tutor's the following subjects:
Chemistry 20 $30/hr (home) $28/hr (online) Chemistry 30 $30/hr (home) $28/hr (online) Introductory Chemistry $30/hr (home) $28/hr (online) Science 10 $30/hr (home) $28/hr (online) Science 20 $30/hr (home) $28/hr (online) Science 30 $30/hr (home) $28/hr (online) Science Grades 7-9 $30/hr (home) $28/hr (online) Spelling and Reading Grades 1-6 $30/hr (home) $28/hr (online)
Tutor's in:
Aldergrove Allendale Argyll Aspen Gardens Avonmore Bearspaw Belgravia Belmead Blackburne Blackmud Creek Blue Quill Blue Quill Estates Boyle Street Bonnie Doon Brander Gardens Britannia Youngstown Brookside Bulyea Heights Callingwood Canora Carter Crest Central McDougall Cloverdale Crestwood Dechene Downtown Duggan Elmwood Empire Park Ermineskin Falconer Heights Forest Heights Gariepy Garneau Genora Glenwood Grandview Heights Greenfield Grovenor Haddow Hazeldean Henderson Estates High Park Hodgson Holyrood Idylwylde Inglewood Jamieson Place Jasper Park Keheewin King Edward Park La Perle Lansdowne Laurier Heights Leger Lendrum Place Lymburn MacEwan MacTaggart Magrath Heights Malmo Plains Mayfield McCauley McKernan McQueen Meadowlark Park North Glenora Ogilvie Ridge Oleskiw Oliver Ormsby Place Paisley Parkallen Parkview Patricia Heights Pleasantview Prince Rupert Queen Alexandra Queen Mary Park Quesnell Heights Ramsay Heights Rhatigan Ridge Richford Rideau Park Rio Terrace Ritchie Riverbend Riverdale Rossdale Royal Gardens Rutherford Sherwood Skyrattler Spruce Avenue Steinhauer Strathcona Strathearn Summerlea Sweet Grass Terra Losa Terwillegar Towne Terwillegar South Thorncliff Twin Brooks West Jasper Place West Meadowlark Park Westbrook Estates Westmount Westridge Windsor Park Woodcroft view more communities...
"She is very personable and helpful"
Communication:
Punctuality:
Preparedness:
Connection:
Helpfulness:
"She seems to be an excellent tutor. My grandson has,so far, found her very helpful"
Communication:
Punctuality:
Preparedness:
Connection:
Helpfulness:
"Ainsley is great at explaining difficult concepts. My son is starting to understand Chem for the first time. My only regret is that we didn't find her sooner! "
Communication:
Punctuality:
Preparedness:
Connection:
Helpfulness:
*No monthly commitment or contracts. Only on demand when you need it.
*Keep in mind that these are just general availabilities and does not account for sessions already booked during these times *Plans are a way that a tutor can offer bulk purchases of tutoring for deep discounts. If you plan on doing multiple sessions with tutors, we recommend choosing a plan.
Questions? Call us at (780) 666-4726