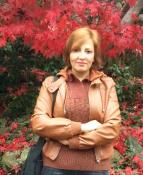 +10 Hours
Parinaz M
$28.00 - $34.00/hour

Master's Degree

Background Check Completed On Jan 6, 2016
My name is parinaz (Akram). I have a Master's degree in English Literature and a bachelor's degree in English Teaching. I have also a TESOL Diploma (Teaching English to the speakers of other Languages) from a high-standard college in Vancouver, I am currently teaching mostly part-time in three international colleges in Vancouver and North Vancouver. I have lots of experience in teaching English to secondary and elementary students, international students and immigrants to Canada, both with tutoring and public teaching for many years. By using the newest methods of teaching and creating a friendly atmosphere, I help my students to learn English effectively and gradually, so that they can be independent in reading comprehension and writing various English texts, as well as improving their listening and speaking English. My classes have usually some fun activities to lead you to learn English in an interesting way. You will learn without being bored.
Parinaz Speaks the following languages:
English (Native Or Bilingual)
Parinaz's relevant education:
Master's degree in English Literature, also TESOL Diploma with practicum from Vancouver Language & Career College
Parinaz's availabilities:
Sundays between 1:00pm and 8:30pm
Mondays between 8:00am and 8:30pm
Tuesdays between 8:00am and 3:45pm
Wednesdays between 8:00am and 8:30pm
Thursdays between 8:00am and 3:45pm
Fridays between 8:00am and 3:45pm
Saturdays between 10:00am and 1:00pm

Tutor's the following subjects:
English 9 $33/hr (home) $29/hr (online) English K-7 $32/hr (home) $28/hr (online) English 8 $33/hr (home) $29/hr (online) ESL $34/hr (home) $29/hr (online)
Tutor's in:
Kitslano Oakridge Marpole Sunset Renfrew-Collingwood Kengsington-Cedar Cottage Hastings-Sunrise West End Yaletown Gastown Downtown Eastside Strathcona Grandview-Woodland North Vancouver Arbutus Ridge Shaughnessy South Cambie Riley Park Fairview Mount Pleasant Burnaby-Burnaby North Burnaby-Burnaby South Burnaby-Burnaby East view more communities...
*No monthly commitment or contracts. Only on demand when you need it.
*Keep in mind that these are just general availabilities and does not account for sessions already booked during these times *Plans are a way that a tutor can offer bulk purchases of tutoring for deep discounts. If you plan on doing multiple sessions with tutors, we recommend choosing a plan.
Questions? Call us at (778) 655-4121