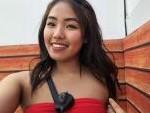 Alexandria F
$27.00 - $35.00/hour

University or College Student

Background Check Completed On Jun 6, 2019
Hello! I am a 4th-year undergraduate student in Psychology at the University of Alberta. Some of the courses I have taken are Psychology, Physiology, Chemistry, Math and a little bit of Biology. The subjects I am comfortable in teaching are Physiology (Biology 30) and Math. I am able to teach in two languages, English and Filipino. I am passionate and driven to help kids learn the necessary material in a fun and engaging way. In my teaching, I try to engage the student as much as possible for the entirety of the session. One way of keeping them engaged is having them write small notes as we go. I believe that learning is reinforced further as the information to be processed is presented in more ways than one. Another thing I believe in is taking breaks at regular intervals. This will prevent the student from burning out and it just allows their brain to rest and start anew. The bulk of my tutoring experience comes from helping out my siblings and family friends. A little more about me... I enjoy watching basketball games such as the NBA league but I don't play myself. Running, hiking, and wall climbing are some of the things I sometimes like to do in my free time. I am also experienced in working with children. I am currently working on a research project that studies the cumulative semantic learning in children.
Alexandria Speaks the following languages:
English (Native Or Bilingual) Filipino; Pilipino (Native Or Bilingual)
Alexandria's relevant education:
University of Alberta (Major in Psychology)
Alexandria's availabilities:
Sundays between 9:30pm and 9:45pm

Tutor's the following subjects:
Math 10-3 $27/hr (home) $30/hr (online) Math Grades 3-6 $29/hr (home) $30/hr (online) Math Grades 7-9 $33/hr (home) $30/hr (online) Biology 30 $35/hr (home) $30/hr (online) Introductory Chemistry $35/hr (home) $30/hr (online)
Tutor's in:
Belgravia Callingwood Donsdale Garneau Lymburn McKernan Ormsby Place Windsor Park
*No monthly commitment or contracts. Only on demand when you need it.
*Keep in mind that these are just general availabilities and does not account for sessions already booked during these times *Plans are a way that a tutor can offer bulk purchases of tutoring for deep discounts. If you plan on doing multiple sessions with tutors, we recommend choosing a plan.
Questions? Call us at (780) 666-4726