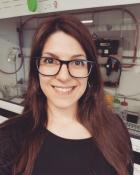 +25 Hours
Ania S
$30.00 - $45.00/hour

PhD

Background Check Completed On Sep 16, 2018
I am a 5th year PhD candidate in chemistry with 4 years tutoring and 5 years teaching experience specializing in Math 10 and 11, Science 10, Physics 11 and Chemistry 11, 12, AP, IB and undergraduate/college level chemistry.
Ania Speaks the following languages:
English (Native Or Bilingual)
Ania's relevant education:
- PhD from SFU from 2014 to present. - BSc from UBC from 2010 to 2014.
Ania's availabilities:
Thursdays between 4:00pm and 7:00pm
Fridays between 4:00pm and 6:30pm
Saturdays between 11:00am and 3:00pm
Tuesdays between 4:00pm and 6:30pm

Tutor's the following subjects:
Chemistry 20 $45/hr (home) $30/hr (online) Chemistry 30 $45/hr (home) $30/hr (online) Essay Marking $35/hr (home) $30/hr (online) Introductory Chemistry $45/hr (home) $30/hr (online) Math 10-3 $38/hr (home) $30/hr (online) Math 10C $38/hr (home) $30/hr (online) Science 10 $35/hr (home) $30/hr (online)
Tutor's in:
Allard Ambleside Bearspaw Blackburne Blackmud Creek Blue Quill Blue Quill Estates Callaghan Cameron Heights Carter Crest Chappelle Charlesworth Dechene Donsdale Ekota Edgemont Ellerslie Ermineskin Falconer Heights Glenridding Heights Haddow Henderson Estates Heritage Valley Hodgson Jamieson Place Keheewin Keswick Leger MacEwan MacTaggart Magrath Heights Menisa Ogilvie Ridge Orchards at Ellerslie Paisley Richford Rutherford Sakaw Satoo Skyrattler Steinhauer Summerside Sweet Grass Terwillegar Towne Terwillegar South The Hamptons Twin Brooks Walker Wedgewood Heights Westbrook Estates Windermere view more communities...
*No monthly commitment or contracts. Only on demand when you need it.
*Keep in mind that these are just general availabilities and does not account for sessions already booked during these times *Plans are a way that a tutor can offer bulk purchases of tutoring for deep discounts. If you plan on doing multiple sessions with tutors, we recommend choosing a plan.
Questions? Call us at (780) 666-4726