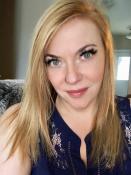 Kelsey L
$50.00 - $55.00/hour

Bachelor's Degree

Certified Teacher

Background Check Completed On Sep 29, 2019
I am a Elementary School Teacher with 9+ years teaching in various roles, including early childhood, grades 1-3 , and adult education. I enjoy tutoring and have done so outside of my teaching duties for 3 years. I look forward to working 1:1 with your child on their academics so they can be successful and achieve their full potential. Three of my educational years were spent supporting the developmental needs of children and adults. I have gained extensive knowledge in creating inclusive environments. I use traditional (teacher directed) and non traditional (child centred) teaching methods to teach. Along with my skill set I bring with me learning tools to assist in more in-depth learning. I look forward to meeting and working with your child and help to create a fun, engaging learning experience!
Kelsey Speaks the following languages:
English (Native Or Bilingual)
Kelsey's relevant education:
Bachelor of Education (Elementary with minor in Social Studies) from the University of Alberta in 2010
Kelsey's availabilities:
Mondays between 5:00pm and 8:00pm
Wednesdays between 5:00pm and 8:00pm
Tuesdays between 3:00pm and 7:00pm
Fridays between 3:00pm and 6:00pm

Tutor's the following subjects:
Math Grades 3-6 $55/hr (home) $55/hr (online) Reading Writing Grades 1-6 $50/hr (home) $50/hr (online) Spelling and Reading Grades 1-6 $50/hr (home) $50/hr (online)
Tutor's in:
Ambleside Chappelle Glenridding Heights Heritage Valley Keswick Paisley Windermere
*No monthly commitment or contracts. Only on demand when you need it.
*Keep in mind that these are just general availabilities and does not account for sessions already booked during these times *Plans are a way that a tutor can offer bulk purchases of tutoring for deep discounts. If you plan on doing multiple sessions with tutors, we recommend choosing a plan.
Questions? Call us at (780) 666-4726