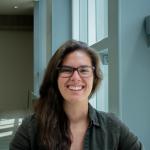 Maya S
$30.00 - $40.00/hour

Bachelor's Degree

Background Check Completed On Jan 10, 2019
Hello! I recently completed an honors degree in Neuroscience at the University of Calgary but I am originally from Vancouver BC where I spent my winters skiing and summers sailing, canoeing, and camping. I attended YMCA Camp Elphinstone as a camper for most of my childhood and I continued to complete the leadership development 1&2 programs before working as a camp counselor at their overnight camps for two summers. Working with kids facilitating activities in an outdoor setting set the stage for my love of teaching and helping others. This passion has since been extended to working as a French language teaching assistant for a grade 4/5 class and one-on-one tutoring in English language skills for a university student with a developmental disability. I have always loved to learn and had a natural curiosity about the complexity of human cognitive functioning and differences in susceptibility to mental illness which inspired me to study neuroscience. To this end, I would love to tutor in the areas of biology and chemistry. However, in my spare time, I love to read and write and have experience tutoring language skills and reading comprehension. I am flexible in teaching strategies, often using step-by-step examples, visual depictions of concepts, and real-world analogies when applicable. I hope to be able to share my passion for learning in a way that helps spark interest and understanding of these areas in others.
Maya Speaks the following languages:
English (Native Or Bilingual) French (Professional Working)
Maya's relevant education:
University of Calgary (Majoring in Neuroscience)
Maya's availabilities:
Tutor's the following subjects:
Biochemistry 393 $40/hr (home) Biology 30 $35/hr (home) Chemistry 20 $35/hr (home) Chemistry 30 $35/hr (home) Math 30-1 $35/hr (home) Math Grades 3-6 $35/hr (home) Math Grades 7-9 $35/hr (home) Reading Comprehension $35/hr (home) Science 10 $35/hr (home) Science Grades 7-9 $35/hr (home) Spelling and Reading Grades 1-6 $35/hr (home)
Tutor's in:
Renfrew-Collingwood Kengsington-Cedar Cottage Hastings-Sunrise Yaletown Gastown Strathcona Grandview-Woodland Riley Park Fairview Mount Pleasant
*No monthly commitment or contracts. Only on demand when you need it.
*Keep in mind that these are just general availabilities and does not account for sessions already booked during these times *Plans are a way that a tutor can offer bulk purchases of tutoring for deep discounts. If you plan on doing multiple sessions with tutors, we recommend choosing a plan.
Questions? Call us at (778) 655-4121