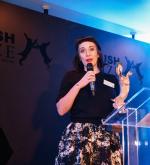 Rebekah H
$30.00 - $40.00/hour

Bachelor's Degree

Background Check Completed On Apr 9, 2018
I am a TESOL certified ESL instructor with 15+ years of ESL experience. I am also able to tutor Mandarin Chinese. I am operational in English, Mandarin(中文), and French. My fourteen years living in Taiwan, studying Mandarin, teaching English and working with the Taiwanese public has enabled me to develop strong teaching skills. I have a high degree of cultural awareness and sensitivity and as a language learner myself I'm able to understand easily the struggles of an ESL student. 我也可以當你孩子的中文家教,你父母的英文家教,都可以。住了台北13年,所以非常了解中國文化。
Rebekah Speaks the following languages:
English (Native Or Bilingual) Chinese (Full Professional) French (Professional Working)
Rebekah's relevant education:
Simon Fraser University
Rebekah's availabilities:
Mondays between 9:00am and 8:00pm
Tuesdays between 9:00am and 8:00pm
Wednesdays between 9:00am and 5:00pm
Thursdays between 9:00am and 8:00pm
Fridays between 9:00am and 8:00pm
Saturdays between 11:00am and 6:00pm

Tutor's the following subjects:
ESL $40/hr (home) $30/hr (online)
Tutor's in:
Beltline Connaught Downtown West Eau Claire Scarboro Sunalta
*No monthly commitment or contracts. Only on demand when you need it.
*Keep in mind that these are just general availabilities and does not account for sessions already booked during these times *Plans are a way that a tutor can offer bulk purchases of tutoring for deep discounts. If you plan on doing multiple sessions with tutors, we recommend choosing a plan.
Questions? Call us at (587) 316-1089