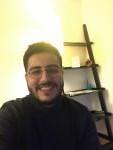 Sepehr A
$27.00 - $28.00/hour

Bachelor's Degree

Background Check Completed On Jan 16, 2019
Hello there! I am innately passionate about teaching and I try to convey complex scientific concepts in a simple language so make you interested in the concept. I have a bachelors degree in Molecular Biology and currently I am studying Biochemistry at SFU. Science is my cup of tea. I'm happy to make you interested in realm of science. I use Feynman learning method to enhance your learning. Thanks, Sepehr
Sepehr Speaks the following languages:
English (Full Professional) French (Limited Working) Iranian languages (Native Or Bilingual)
Sepehr's relevant education:
Molecular Genetics- Tehran Azad university ( Completed Bachelors of science) Biochemistry- SFU, Burnaby campus ( Currently attending)
Sepehr's availabilities:
Sundays between 7:00am and 2:30pm
Mondays between 7:00am and 10:45pm
Tuesdays between 5:00pm and 10:45pm
Wednesdays between 7:00am and 10:45pm
Thursdays between 7:00am and 10:45pm
Fridays between 7:00am and 10:45pm
Saturdays between 7:00am and 10:45pm

Tutor's the following subjects:
Biology 11 $28/hr (home) Biology 12 $28/hr (home) Chemistry 11 $28/hr (home) Chemistry 12 $28/hr (home) Science 10 $28/hr (home) Science 8 $28/hr (home) Science 9 $28/hr (home) Science K-7 $28/hr (home)
Tutor's in:
West Point Grey Kitslano Dunbar-Southlands Kerrisdale Oakridge Marpole Sunset Victoria-Fraiserview Renfrew-Collingwood Kengsington-Cedar Cottage Hastings-Sunrise West End Yaletown Gastown Downtown Eastside Strathcona Grandview-Woodland North Vancouver Arbutus Ridge Shaughnessy South Cambie Riley Park Fairview Mount Pleasant Killarney New Westminster Surrey-Guildford Surrey-Cloverdale Surrey-Fleetwood Surrey-Newton Surrey-South Surrey Surrey-North Surrey Richmond-Thompson Richmond-West Richmond Richmond-Steveston Richmond-City Centre Richmond-South Arm Richmond-East Richmond Richmond-Hamilton Richmond-Sea Island Burnaby-Burnaby North Burnaby-Burnaby South Burnaby-Burnaby East Coquitlam-Austin Heights Coquitlam-Ranch Park Coquitlam-Meadowbrook Coquitlam-Maillardville Coquitlam-Burquitlam Coquitlam-River Springs Coquitlam-Oxford Heights Coquitlam-Essondale Coquitlam-Mayfair Coquitlam-Cariboo Coquitlam-Westwood Plateau Coquitlam-Eagle Ridge Coquitlam-Cassin Coquitlam-Harbour Village Coquitlam-Harbour Chines Port Coquitlam Langley-Fort Langley Langley-Milner Langley-Willoughby Langley-Walnut Grove White Rock Port Moody Pitt Meadows Maple Ridge-Haney Maple Ridge-Hammond Maple Ridge-Cottonwood Maple Ridge-Port Hammond Maple Ridge-Yennadon Maple Ridge-Silver Valley Maple Ridge-Kanaka Creek view more communities...
*No monthly commitment or contracts. Only on demand when you need it.
*Keep in mind that these are just general availabilities and does not account for sessions already booked during these times *Plans are a way that a tutor can offer bulk purchases of tutoring for deep discounts. If you plan on doing multiple sessions with tutors, we recommend choosing a plan.
Questions? Call us at (778) 655-4121