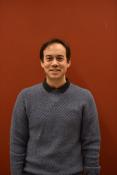 Thomas J
$30.00 - $30.00/hour

Master's Degree

Certified Teacher

Background Check Completed On Dec 2, 2018
I am a certified teacher in British Columbia, and I have been a classroom teacher for 15 years. In that time I have taught Social Studies 9, 10, 11, and History 12. As well, I have taught English 10, and English 11. I am very familiar with the content and skills of all of these curricula. In addition to the historical content of Social Studies, I can also help support you in a variety of writing assignments including paragraph writing and essay writing. Finally, I'm familiar with the new changes for Social Studies and can help support you as you learn historical thinking skills and First Nations content.
Thomas Speaks the following languages:
English (Native Or Bilingual)
Thomas's relevant education:
University of British Columbia (Masters in Education, B.Ed. - Major in History, Concentration in English)
Thomas's availabilities:
Saturdays between 9:00am and 12:00pm

Tutor's the following subjects:
English 10 $30/hr (home) History 12 $30/hr (home) Social Studies 10 $30/hr (home) Social Studies 11 $30/hr (home) Social Studies 8-9 $30/hr (home)
Tutor's in:
Oakridge Sunset Victoria-Fraiserview Kengsington-Cedar Cottage South Cambie Riley Park
*No monthly commitment or contracts. Only on demand when you need it.
*Keep in mind that these are just general availabilities and does not account for sessions already booked during these times *Plans are a way that a tutor can offer bulk purchases of tutoring for deep discounts. If you plan on doing multiple sessions with tutors, we recommend choosing a plan.
Questions? Call us at (778) 655-4121