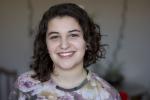 +25 Hours
Leora C
$30.00 - $40.00/hour

Bachelor's Degree

Background Check Completed On Dec 12, 2019
I am a recent graduate of plant biology at the University of Calgary. I have a passion for science, communication and education. I love to teach, and I get so excited when I can inspire another person with something that I have learned. I think tutoring should not only be about improving grades, but learning how to love a topic even when you're struggling with it. As someone with ADHD, I have learned to cope and excel, even with the challenge of staying focused. I have an arsenal of tools, tips and tricks to get focused and stay focused. I am familiar with the multitude of different ways students learn and will get to know my students preferred way of learning to teach them in a way that they can be really satisfied with. My strengths include patience, perseverance and positivity. I am resourceful and even if I don't know the best path to solve a problem, I will work with my student to figure out a way. I have tutored grades 2-12 and taught classrooms with a volunteer organization called Students on Sustainability based at the University of Calgary.
Leora Speaks the following languages:
English (Native Or Bilingual)
Leora's relevant education:
BSc in Plant Biology at the University of Calgary
Leora's availabilities:
Mondays between 7:00pm and 9:00pm

Tutor's the following subjects:
Biology 20 $40/hr (home) $30/hr (online) Biology 30 $40/hr (home) $30/hr (online) Introductory Biology $40/hr (home) $30/hr (online) Math Grades 3-6 $40/hr (home) $30/hr (online) Math Grades 7-9 $40/hr (home) $30/hr (online) Science 10 $40/hr (home) $30/hr (online) Science 20 $40/hr (home) $30/hr (online) Science 30 $40/hr (home) $30/hr (online) Science Grades 7-9 $40/hr (home) $30/hr (online) Spelling and Reading Grades 1-6 $40/hr (home) $30/hr (online)
Tutor's in:
Acadia Altadore Aspen Woods Banff Trail Balmoral Bankview Bayview Bel-Aire Beltline Bowness Briar Hill Brentwood Bridgeland Britannia Cambrian Heights Capitol Hill CFB Lands (East) CFB Lands (West) Charleswood Chinatown Chinook Park Christie Park Cliff Bungalow Coach Hill Collingwood Connaught Cougar Ridge Crescent Heights Currie Barracks Discovery Ridge Downtown West Downtown East Downtown Central Eagle Ridge East Village Eau Claire Edgemont Elbow Park Elboya Heights Erlton Fairview Garrison Green Garrison Woods Glamorgan Glencoe Glengarry Glenbrook Glendale Glendale Meadows Grandview Haysboro Hillhurst Hounsfield Heights Inglewood Kelvin Grove Killarney Kingsland Knob Hill Lakeview Lincoln Park Lower Mount Royal Mayfair Meadowlark Park Mills Estates Mission Montgomery Mount Pleasant Mount Royal North Glenmore Park Oakridge Palliser Parkdale Parkhill Patterson Heights Point McKay Pump Hill Ramsay Renfrew Richmond Hill Richmond / Knob Hill Rideau Rosedale Rosemont Rosscarrock Roxboro Rutland Park Scarboro Shaganappi Sienna Hills Signal Hill South Calgary Springbank Hill Spruce Cliff Stanley Park Strathcona Park Sunalta Sunnyside Triwood Tuxedo Park University Heights Upper Hillhurst Varsity Victoria Westgate West Hills West Hillhurst Westmount West Springs Wildwood Windsor Park view more communities...
Leora Activity On Our Free Chat Board
On Feb 1, 2020 at 11:36am
, Leora answered a question.
On Feb 6, 2020 at 10:23am
, Leora answered a question.
Leora Tag You're It! Posts
*No monthly commitment or contracts. Only on demand when you need it.
*Keep in mind that these are just general availabilities and does not account for sessions already booked during these times *Plans are a way that a tutor can offer bulk purchases of tutoring for deep discounts. If you plan on doing multiple sessions with tutors, we recommend choosing a plan.
Questions? Call us at (587) 316-1089